2021
Women Entrepreneurs in Cleantech in Canada and Middle East: Success Stories and Learnings
CEBC's Women in Clean Energy (WICE) partners with Canada's Women in Renewable Energy (WiRE) to present a discussion on Women Entrepreneurs in Cleantech in Canada and Middle East: Success Stories and Learnings. The purpose of this webinar is to feature female entrepreneurs, the challenges faced in climate tech and inspire opportunities for all.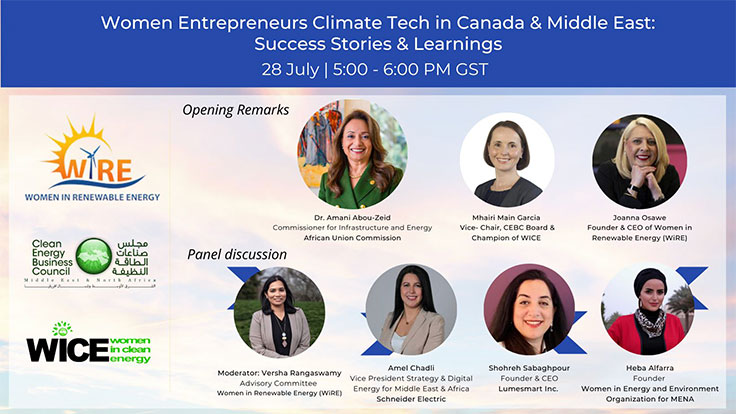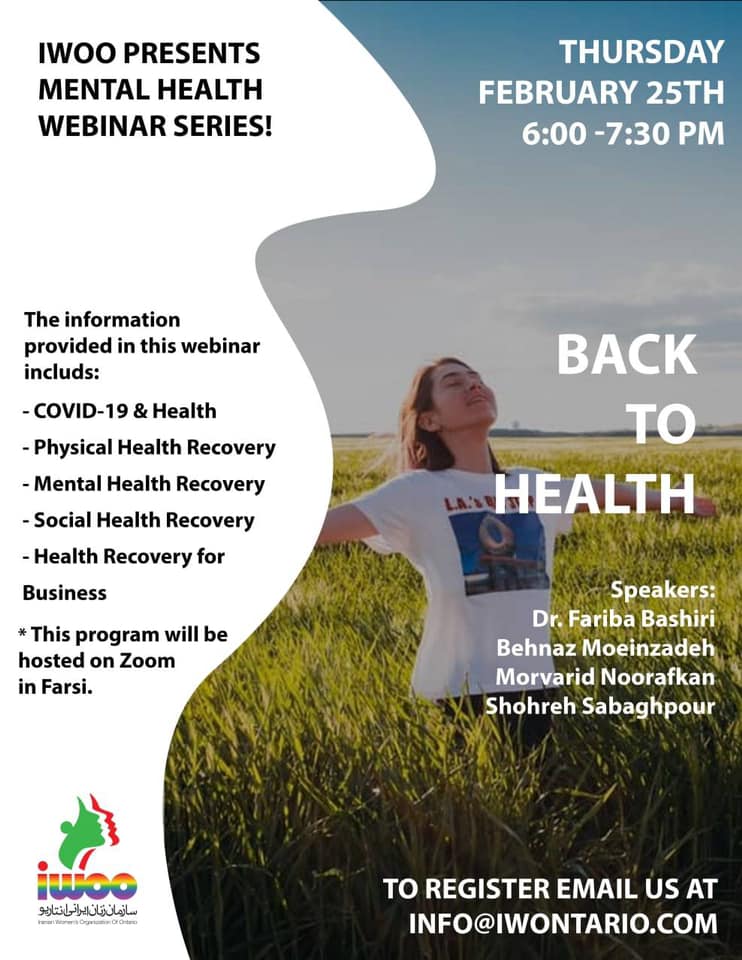 2021
IWOO Mental Health Webinar Series
Helping Iranian-Canadian Business Owners by sharing important points for maintaining their Mental Health during Pandemic and how decreasing the cost of their business by the efficient plan and smart strategies. Thanks to Dr.Bashiri, the President and chair of the Iranian Women Organization of Ontario (IWOO)'s Menatl Health for initiating the webinar.
2020
International Women's Day
In Celebration of International Women's Day "Women in Leadership: Creating a Vision for an Automated World" by IEEE Women in Engineering and GYBO Robotics Network. Shohreh was invited by Maryam davoudpour, Professor and Chair of IEE Toronto Section to share her story as an engineer entrepreneur and a single mom who passed lots of challenges to become succeed in her business. She has received the "Fearless, Girls with Dreams, Women with Vision! " book form Irene Sterian, Preisident & CEO at Remap Network. Thank to Helen Kontozopoulos, Adjunct Professor at the Department of Computer Science in the University of Toronto, for the article.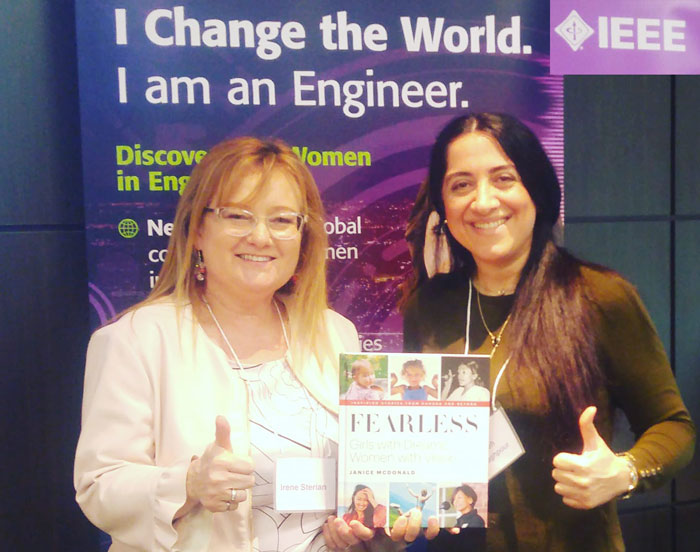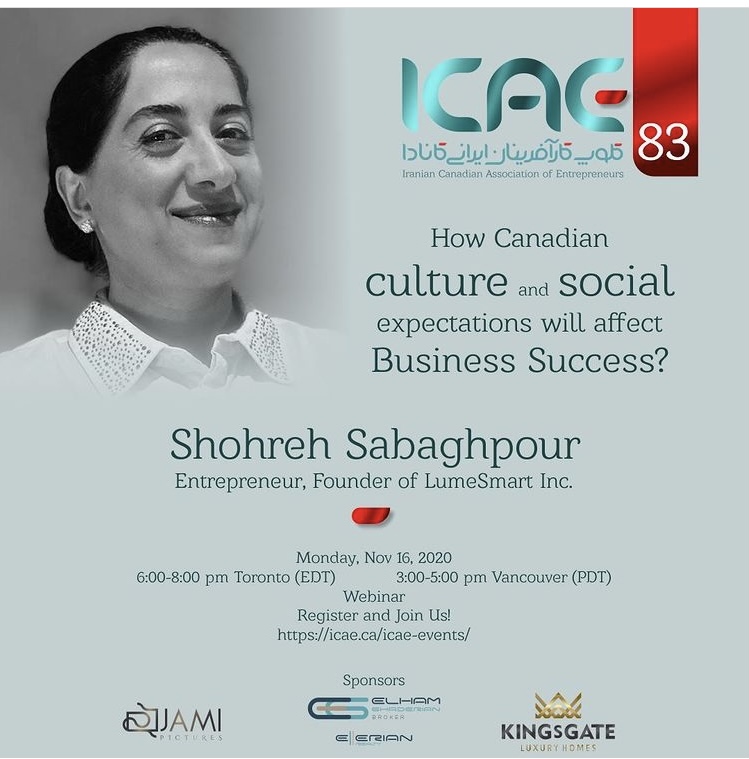 2020
ICEA 83rd Webinar Series
Having a webinar about How Canadian culture and social expectations will affect business success. Thanks to Mehrdad Moradian, CEO & board memebr and Bahman Nasiri, President at the Iranian Canadian Association of Entrepreneurs (ICAE) for the great arrangement and help.
2018
RHOBT Event
Shohreh was invited by the Richmond Hill Borad of Trade (RHBOT) to share her experinces about the Canadian workplace culture.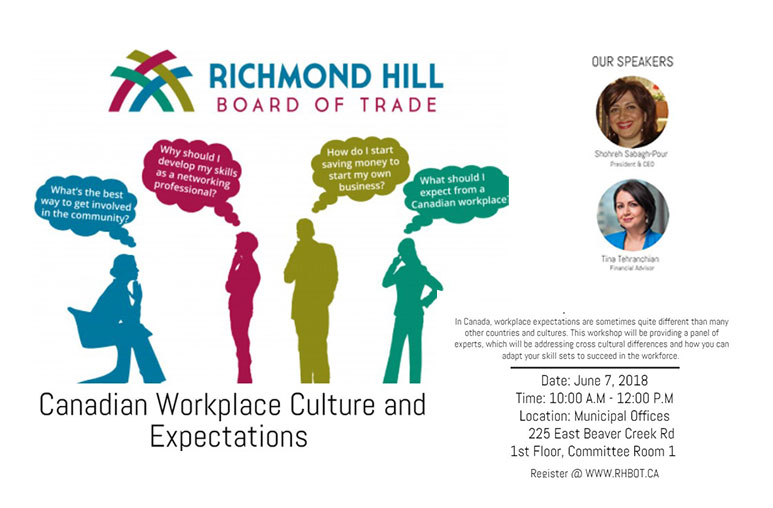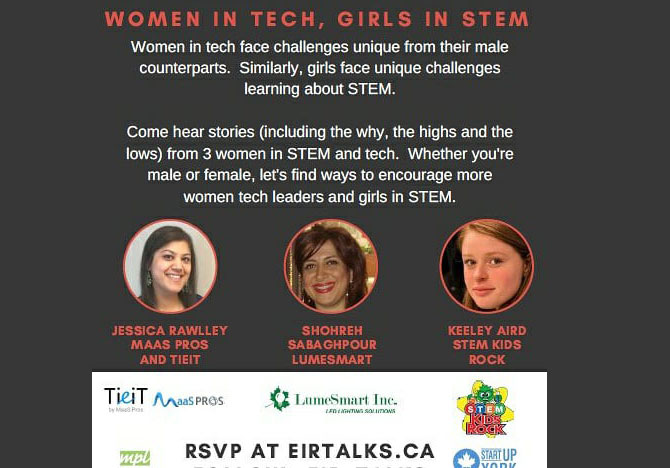 2017
Women in Tech, Girls in STEM
"Women in Tech, Girls in STEM" was the theme on December 4, 2017 in Markham. Shohreh Sabaghpour Founder & CEO at Lumesmart Inc. , Jessica Rawlley (MaaS Pros, TieIT) and Keeley Aird (STEM Kids Rock) shared their stories (including the why, the highs and the lows) of being women co-founders of tech or STEM companies.